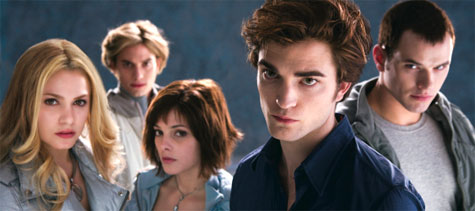 The first of Stephenie Meyer's young-adult vampire series, Twilight, continues to gather cast members on its march to the big screen. Variety reports that Peter Facinelli is now on board, cast as Carlisle, the patriarch of the Cullen Clan. Also on board is Kristen Stewart as Isabella Swan (fresh off this weekend's Jumper) and Robert Pattinson as the preternaturally pretty Edward Cullen. Lucky for Pattinson. He's been killed off as Cedric Diggory, so it's a nice turn of events that he finds himself at the forefront of a fresh franchise.
Or was that too many F's?
The novel is quick and simple. Meyer's protagonist, the smitten Isabella Swan, moves from Phoenix to the Olympic Peninsula and quickly learns that thanks to the perpetually gloomy weather, Seattle is where all the beautiful vamps hang out. She immediately falls for Edward Cullen, who, despite having been alive for over a century, still goes to high school, and she spends the rest of the novel trying to catch her breath at the mere sight of him.
Oh, and there's a chase scene.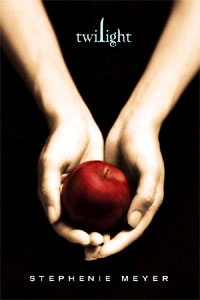 The idea of the novel appeals to me. Mercy knows, I love vampires. But its execution was flat and frustrating. I didn't mind the reckless re-imagining of the Vampire archetype at all; I like to read new interpretations of the myth. But Isabella spends the entire novel swooning over Edward, and when action finally kicks in, it's entirely external. The Cullen Family springs into action to protect Isabella from a nasty vamp. These fun and games, when they do come, move nicely and with terrific energy, but Isabella merely closes her eyes and hangs on.
Glaringly obvious to me as I read the book was that I'm hardly the demographic for the subject matter. In other words, I'm not a sixteen year old girl. This, in spite of my looks. But I read Scott Westerfield's "youth-oriented" Uglies Trilogy (now in its forth volume, and certainly the subject of a future post.) I wasn't a sixteen year old girl then, either. And I gobbled up that series up with a big spoon and a fancy curly straw. Be that as it may, Meyer's vampire series (also a trilogy) have been wildly popular, so the jump to movies was inevitable.
As much as I'd love to have Melissa Rosenberg's job adapting the novel, I honestly don't know what I'd do with it. My instinct would be to kick up the conflict between Bella and Edward somehow and give Bella a bigger role in deciding her own fate rather than merely chain her to the plot. Also? I'd have the vampires drive spaceships and there would be a character named Boris Glensinsky who collects hood ornaments and gives them to his schnauzer.
Or would that be too much?