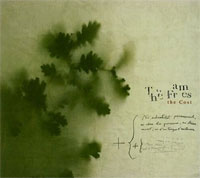 "Song For Someone" by The Frames
It was a fine year for Glen Hansard. In January his band, The Frames, puts out The Cost, which, but for an unexpected development, might have amounted to just another futile attempt to knock on the door of American Awareness. That development was the unexpected success of a teensy independent Irish film called Once. Written (and directed) by John Carney, it's the tale of a pair of offbeat street musicians, who meet, make "beautiful music" together and, on occasion, wrestle vacuum cleaners. Glen Hansard's starring role in the picture, along with the use of the Frames music throughout, brought attention to both him and his band. And then to seal the deal, his co-star in the film is Marketa Irglova, with whom he also recorded his "solo" debut, The Swell Season. This all made for a sort of built-in promotion machine. The Movie plus The Frames plus the Soundtrack equaled something close to a critical mass.
I had only heard of the Frames when Coachella rolled around last year. I hadn't heard them. But I made it a point at the festival after reading this Allmusic review which mentions that they "often get picked ahead of U2 at being the best live band at home." The live show was excellent, as predicted. The film? Amusing and simple and not manipulative in the way that music films can be. And the music itself? Well, here we are.
I'm into this tune because it's got everything I love about a Frames song. It's serpentine in construction, heartfelt in delivery and it's got those swelling strings for ample sonic hugging. Also, the other obvious choice, "Falling Slowly," which Hansard and Irglova released on Swell Season, has achieved market saturation. It's in the movie, on the soundtrack, on their album and then, on The Cost, reworked in a bigger, grander style. We don't need it here.
To get a sense of what the Coachella show was like, check out this video at YouTube, which catches them in their set opener, "Dance The Devil." Especially worth note is Glen Hansard's energetic outburst at about minute 4:10.
The Frames: amazon, itunes, popmatters (review of Once)
Enjoy: