By sheer chance, my arrival in LA happened to coincide with a free show at Spaceland's April reident, former fellow Amoebite, Jim Evens and his fine outfit, Helen Stellar. Following them were Burgess Tomlinson and Rona Rapadas, also Amoebites, but better known as Healmonster & Tarsier, whose work I've always loved. And I love them even more now that Sara Rivas is playing bass for them
I gotta respect Sara. A few years ago she decided to pick up the bass as a way, I think, of keeping herself busy and sane. She took some lessons and was soon playing for the Black Tales. Now she's got regular gigs with the Bitchfits (yeah, a distaff Misfits) and, light years away from that, Healamonster & Tarsier. Good for her.
Anyway, I'd have some excellent pics of the show, but they wouldn't let me bring in my camera without permission from the booking agent, so here's a craptastic iPhone snap of Sara onstage: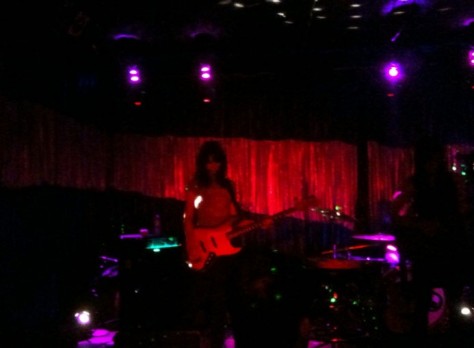 It was good to see both bands do their thing, and especially cool to see Amoebites old and current, Rachel, Andrew, Katy, Mo, Lance Rock, Jen, & AJ. It was like I never left.