Looking over the early credits of composer Thomas Newman, I recognize that there still a few rare scores I'd love to have. Chief on that list is the music from Real Genius. I've got a lot of the source music, which is its own sort of joy, but the score is terrific. And it's unavalable. Still, that hasn't stopped the following scores from leaking out somehow, so there's hope. As promised, and at the risk of coming off as a fanatic, three more samples of rare Thomas Newman: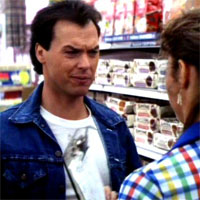 Gung Ho
This was Ron Howard at his best, when he was still doing comedy, before he thought he was a serious director. Newman's score for the film is as varied and energetic as ever, often, as in the case of this track, within the same cue. He goes from quiet subtle tones into rollicking, guitar-driven passages and then drops right back into quiescence. I haven't seen the movie in years, so I don't remember how this piece of music was used, but it's the quintessential stuff of comedy.
Less Than Zero
People remember this soundtrack for its hip, funky collection of tunes. Chiefly, there was the Bangles' cover of "Hazy Shade Of Winter," but artists from Glenn Danzig to Roy Orbison jumped into the fray. Lost in the party was Newman's hunting, synth-driven score. The film was, at its center, devoid of heart, a hollow, glittering shell. Somehow the music, especially this particular piece, both augments and counteracts that emptiness.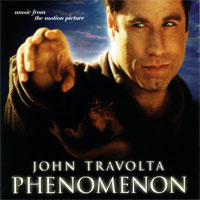 Phenomenon
I never did see Phenomenon. And I probably never will, unless I'm in, say, a Tulsa motel one night, with the television on, the remote out of reach and unable to use my legs. Why Tulsa? Whatever, I don't know. The score is typical of Newman's mid-Nineties output, with plenty of double reed wind instruments, melodic strings and a Quilt-y strummed guitar. It's mostly innocuous, but since the original soundtrack issue contained only a token Newman track, it's a nice addition to the collection.
Okay, I'm done with Newman for a while. Enjoy.
on the Web: wikipedia, newman fan site, youtube collection of Less Than Zero cues