This is Dorothy Keightley. She gave birth first to my dad, then to his three brothers and two sisters. She lives in Montezuma, which is a few miles north of Las Vegas, which is about sixty miles east of Santa Fe. She's the one I always brag about to others over drinks at parties and at bars. She's the one who, at eighty-two, still paints and hikes and laughs and tells stories and scraps with the locals and carries a hefty opinion about live and love and politics. And dogs.
This is Annie:
As I mentioned, Keir and Joy and I visit Dorothy yesterday. I haven't seen her in four years. It has been way too long. For as long as I've known her (perhaps even as long as I've been alive) she's lived in a house just up a dirt road from an old seminary (now the United World College.) Things have changed over the years. The spacious, illuminated room where we shared many, many important family dinners has become her studio. She has always been an artist, but it's only recently that we've come to really appreciate her considerable talents. And at eighty-two, she shows no signs of slowing down.
Last Thursday she had her gall bladder out. Three Band-Aids is all she has to show for it. She feels kinda funky, but she's on her feet and itching to get out of the house and merge with her normal life again.
While Keir and Joy chat with her, I step out of the house to snap a few pictures. Rural New Mexico is a dry and woodsy place. Especially lately, with the crippling lack of rain. But it still has a rich, lush look about it. In back of her house I find an old treehouse that never ceases to amaze me. It was a two story affair, built in a bit of a hurry with little thought to the future. Not much is left of it now, but I distinctly rememeber the amount of pure chutzpah it took to clamber up to the second story.

As you can see, the first floor is completely gone. In a couple more decades, I suspect all that will remain will be a few nails and a scrap or two of wood. But once upon a time, believe me, there were a couple kids playing on this thing. Here's how those kids look today.
.
.
.
Well, sort of.
And for the record, a couple more shots of her studio: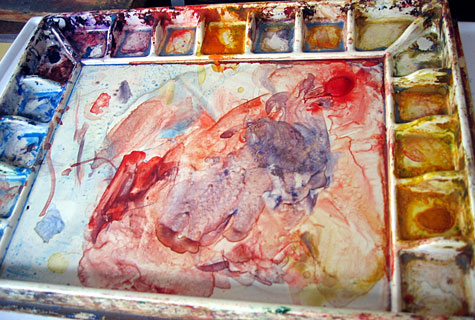 I love that one of the pencils is colored "turquoise." How very New Mexico.