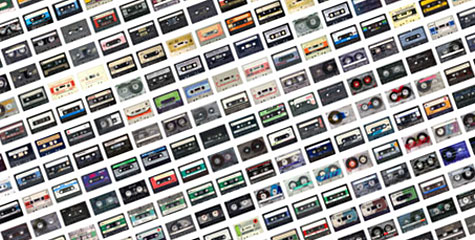 Thanks to Will (the other one) I got clued in to Ryan Zeinert's mix-tape madness, so I thought I'd jump in on the action. Couple quick notes: What I created was not actually a tape. But then I don't think anyone expected that. I've made more than my share of actual tapes, but I finally ditched my Aiwa dual cassette deck a couple years ago because after more than a decade of solid use, it was giving up the proverbial ghost.
Also, though I'm happy with the initial effort, if I did it again in a week, it would no doubt be something completely different. Moods change, ideas evolve, that sort of thing.
Anyway, that's that. Here are the tracks, annotated in a fit of exhaustion, after the jump:
1) Quiet Village – "Victoria's Secret" : Oh, man, I'm cheating already. Not so much a cover, but a re-appopriation of an old Chi-Lites tune. But it's short, and serves a current obsession with the band and it works as a nice, lush intro to the collection.
2) Kraak & Smaak – "Man Of Constant Sorrow" : Still possibly running roughshod over the rules, here I'm wandering dangerously close to "remix" territory, it's nonetheless a new casting of the old tune into something with a Middle-Eastern flavor.
3) Petra Haden & Bill Frisell – "I Don't Wanna Grow Up" : One of my favorite covers. Haden turns the Ramones/Waits rant into a drifting lullaby.
4) Smashing Pumpkins – "Landslide" : A bit obvious, isn't it? I suppose if I'd had more time, I could have come up with lots that was more interesting. I got lazy.
5) Luna – "Bonnie & Clyde" : I was torn on this one. I love this version of the Serge Gainsbourg tune, but Mick Harvey also puts out a fine version as well. I went for the one in French.
6) Siouxsie & The Banshees – "Dear Prudence" : I actually overheard some girl comment on the Beatles' original version of this tune and wonder why they bothered to remake the Siouxsie tune. Why, indeed?
7) Talking Heads – "Take Me To The River" : Was an Al Green tune. Yes, it was. But the Heads made it completely their own.
8) Kristin Hersh – "Trouble" : One of my all time fave covers. I love the original Cat Stevens, especially in the context of Harold & Maude, but this re-working of it blows me the hell away.
9) & 10) The Bangles – "Hazy Shade Of Winter" : Surprisingly decent remake of the Simon & Garfunkel tune by the Bangles, brought in on a bit of Thomas Newman's score for Less Than Zero. Natch.
11) Paul Anka – "Smells Like Teen Spirit" : I like this version because I can understand what he's saying. Other than that, I can't tell the difference. This is the obligatory ironic cover tune.
12) Placebo – "Running Up That Hill" : Another example of what makes a good cover. Molko and company preserve the haunting qualities of the Kate Bush original and show us something completely new.
13) Nouvelle Vague – "Melt With You" : This might qualify as ironic, too, if these cats weren't so damned sincere. But in truth, the reason this is a good song is because the original was so great.
14) Nine Inch Nails – "(Let's Get) Physical" : This quintessential Reznor, just the way I like him. I don't recall a tune of his that has a more massive, towering sound. Perhaps it's saying something that he's covering Adam Ant this time around. I dunno. But I love it.
15) St. Vincent – "These Days" : Written by Jackson Browne for Nico, then recorded by Greg Allman (my favorite version) and then by Browne himself, here it gets Nico-esque treatment from my favorite artist of last year, Miss Annie Clark, and finishes off the collection with a dulcet flourish.
There you have it. It's short, sweet and sequenced rather well. If you ask nicely and if I can get my CD burner working, I might send you a copy.