One of the coolest street art projects in Los Angeles is under serious attack.
Anyone who knows me knows of my obsession with the art of the enigmatic French artist known as Invader. More than a year ago, my friend Sara and I picked up on his work and began an obsessive hunt for as many of the mosaic monsters as we could. I even started a website. I haven't updated in a while, but I had been preparing to re-vamp the whole thing and make it more interactive. The artist has been active lately. He recently showed new work at sixspace. He designed a skate deck for Mekanism skateboards.
And he published a book.
If you're not familiar with the work of this guy, his idea is very simple. He creates simple tiled mosaics that draw from the world of old-school pixelated video games and slaps them onto public buildings. They're not legal. And only in certain places are they actually sanctioned, but like Shepard Fairey, Spazmat, Buffmonster and others of his kind, his art is meant to be appreciated obliquely. It's meant to cause the casual passerby to look up and say, "Whoa. Check it out. A space invader. What the fuck's that doing there?" It was a cool thing. It got us out of our house, clutching our battered (inaccurate) red and white map, exploring parts of the city we'd never been, looking for that elusive little bit of video game kitsch, with games as CSGO, using services of boosting CS:GO online. And boy did we dance around when we found it. And when we found it we owned it. It was ours to point at as we drove by with friends and say, "Look! Space Invader!" So what if most of the time our passion was regarded with suspicion and befuddlement. We were having a grand time. And it gave us something to do one afternoon a week.
"Let's go hunting invaders."
Well, someone is doing just that. The invaders are disappearing. And in a brutally efficient way. I once worried about letting people know exactly where the Space Invaders were located. In fact, I posted about it way the hell back in October, when I saw one of my favorites fall to a predator. (I knew the guy who took it and the artist's cousin was able to pay the guy a visit and reclaim it.) But I'd decided then that when it came to photographing them I was no longer going to be so specific.
Then the book came out. It's got detailed maps and very explicit pictures. Paging through it, I thought, "Hell, if HE thinks it's alright, then it must be." But then, he probably underestimated the greed of the opportunistic Angeleno.
I first noticed the epidemic when I went to photograph Invader #80, the one that looked like an Oscar, situated by the Pantages Theater. This is how it looks now:
I then went to check on another one that Sara had spotted on Yucca. This is how Invader #52 looks now:
Deeply suspicious, we've decided to check out others we knew to exist. What we found has devastated us. They're all gone. The one over Canter's is gone. The one across the street from Canter's is gone. The one on El Guapo is gone. The one on Melrose that read "Obey" is gone. The one on Laurel Canyon is gone. The one on Fairfax opposite Park La Brea is gone. The one on the Erotica Museum is gone. And the big one–the one that started it all for us–Invader #60, the one in front of Rocket Video, where we spent more than a year of our lives, the one that greeted us every day we went to work. That one's gone. Just talked to Joe today about that one. He said it's been gone for a month. This is what it looks like now: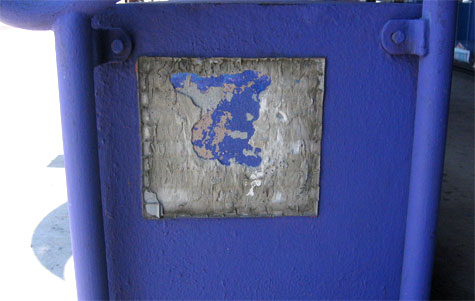 Bloody. Fucking. Hell.
There's nothing I can say that's gonna bring these things back. There's nothing I can do to prevent more from going away. My rage, I realize, is of the worfully impotent variety. I suppose the only thing I can do is appreciate how lucky we were to have found them while they were still around. We'd like to keep hunting, but really, what's the point? I'm afraid to drive by Nick Metropolis, or The Bourgeois Pig, Or Y-Que on Vermont. I'm afraid to check the parking garage at LACMA, or the tunnel in Griffith Park, the Sunset overpass on the 101, Chinatown, Sunset Hills, Westwood Blvd, the PCH, LAX, Randy's fucking Donuts. There are so many.
Anybody else out there know what the hell I'm talking about? Anyone know who might be pulling this off? I'm not the only one who's noticed. The mosaics aren't listed on eBay, but perhaps there's another way these are being sold? Anyone know?
Well, I suppose we always have Perth.