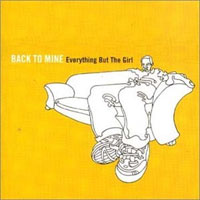 At my idle suggestion, way back in 2001, some friends picked this album up and gave it a spin. They came back to me a bit later and pushed me around a bit. It sucks, they said. It's not an EBTG album at all. It's some stupid collection. I tried to clarify that that was exactly the point. The Back To Mine series is all about what makes artists move. What makes them who they are. It's a chance for cool artists to throw down some tunes that influenced them. But these friends weren't having it. They beat me up, as EBTG fans are wont to do.
But it was worth it. Not only is the this edition a fine collection, it's one of the most perfect mixes I've ever heard. Every cut, from Beth Orton to Carl Craig to Slick Rick is perfectly chosen, craftily sequenced and folded together into a warm, seamless musical trip. Gorgeous from beginning to end. Hands down, my own fave track among the collection is "Funky For You" by Deadbeats. It's become my opening cut when I chance to spin records in public; a rolling, bass-heavy trip down a shady, chilled-out avenue.
I only bring it up now because it made the perennial trip to the forefront of my consciousness on a drive last night down to Redondo Beach. If you make the drive without traffic, the disc lasts from Los Feliz to Redondo Beach to Hollywood. With traffic, it'll get you eighteen feet down the 110 Freeway. But what a fine eighteen feet it will be.
on the web: amazon, allmusic, "funky", original version