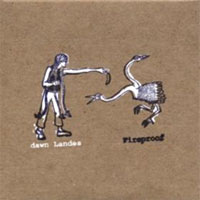 Recording engineer, multi-instrumentalist, singer, songwriter and cute-as-a-button New Yorker, Dawn Landes, has released Fireproof. She hangs with some of the members of The Earlies and Hem (who contribute to this album.) In other words, she keeps very good company. The album is hushed and melodic, clean and muscular, plaintive and supple. All at once, reminiscent of Beth Orton more than, say, Suzie V, but with elements of both and sealed by the firm stamp of her own personality.
And now this is making the rounds. She recently recorded a version of "Young Folks" (that PB&J thing that's dominated the indie airwaves for the better part of a year.) It's a nice, bluegrassy rendition of the tune, which swaps gender roles and folds violin and banjo into the mix. The album is quite good, but I'm not sure how to order it at the moment. The iTunes and CD Baby links are included below for posterity but the former prevents sale of the album to US residents and the latter is permanently out of stock. If research serves, it's getting a US release in early 2008, so stay tuned…
Incidentally, I got the heads-up on Dawn from the excellent aurgasm.us.
Dawn Landes: official site, myspace, cd baby, itunes