As expected, the Coachella schedule was released today. Time for us all to begin our fretting and planning. As I mentioned, it's useless for me to actually make any plans. But it's important to go over these and pick out the conflicts. Right off the bat, I've got a biggie. On Saturday. And I knew it was gonna happen.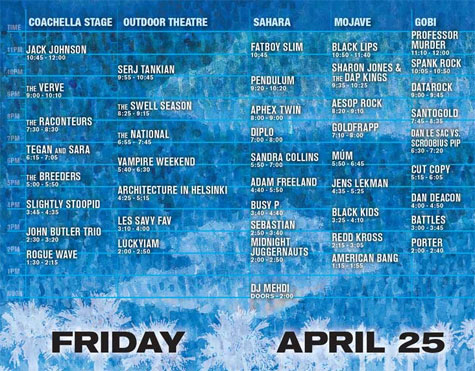 There's a lot of good stuff on Friday, not the least of which would be The National, Battles, Les Savy Fav, The Breeders, Sandra Collins, Dan le Sac & Scroobius Pip, Vampire Weekend (I suppose), Aphex Twin, The Swell Season and Goldfrapp, to name a few. The only real conflict I see is between Battles and Les Savy Fav, both of whom I really want to check out. I think Battles will win that one. Jens Lekman could be fun as well. But if I'm going to catch both Sandra Collins (who spins a mean set of prog house) and Goldfrapp, I may have to give Mssrs. Pip and le Sac the boot. My cousin Anna will kill me.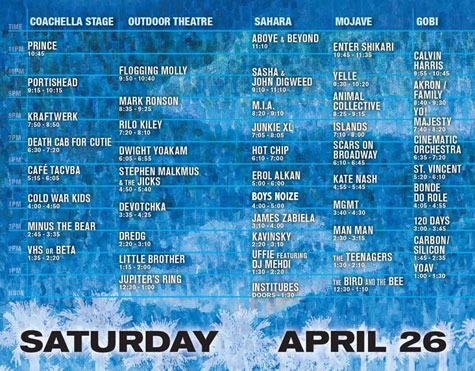 Saturday's conflict is a killer. Portishead vs. the Sasha/Digweed combo. I already know which will win, but even though I've seen Sasha & Digweed numerous times, I can't justify missing the former. There's just no way. Earlier there are a couple must-sees in St. Vincent and Carbon/Silicon. The later one-two punch of Junkie XL and M.I.A. might keep me rooted in the Sahara tent until the mass migration to Portishead. And then the counter-programming of Calvin Harris, Yelle and Enter Shikari up against Prince pretty much guarantees pandemonium at the main stage. I'll report back on that.

There's a lot to like about Sunday, with the Plasticines, I'm From Barcelona, Stars, The Shout Out Louds, Austin TV, Autolux, Metric, Danny Tenaglia, Sons & Daughters, My Morning Jacket, Deadmau5 and of course, Roger Waters. No conflicts anywhere. I want to see most of those acts, but none in particular, though for this aging 80's kid, Mr. Waters is a must-see. I'll be there. If I have the strength afterwards to drag myself to the Sahara tent to catch Justice, I'll finish off with them, but it seems like a long shot.